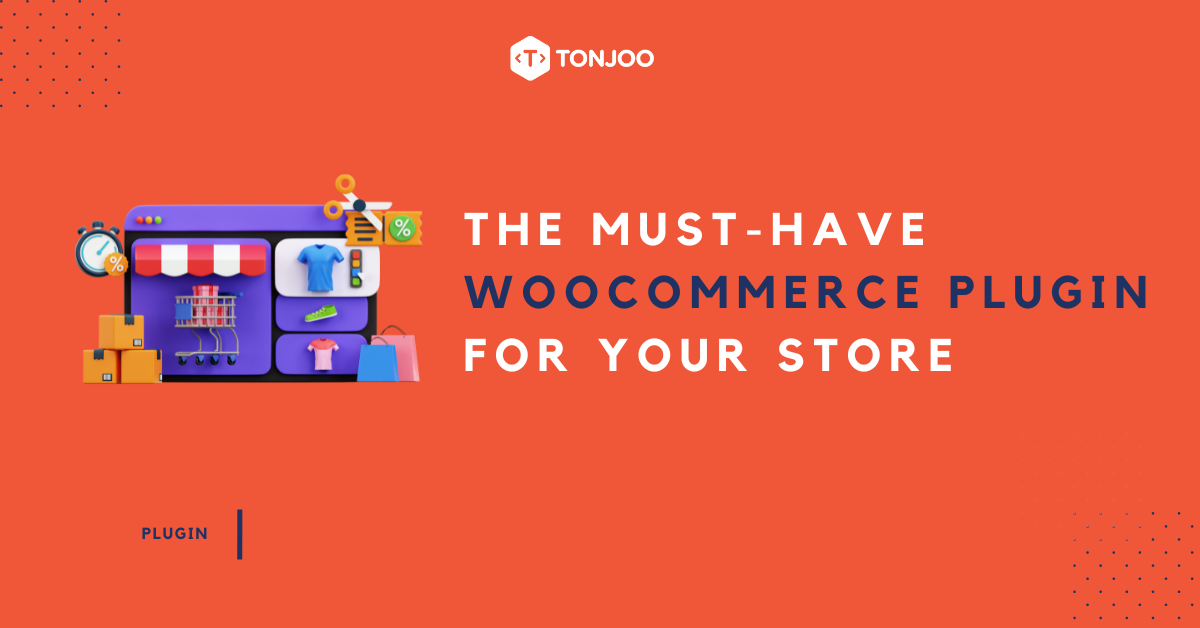 Credit: via tonjoo.com
Developing an online store in WordPress requires the best WooCommerce plugins to maximize the customer experience on the website and boost sales.
Although using additional plugins in WooCommerce is good for e-commerce, too many plugins can instead be detrimental as they can slow down your website's loading time due to larger file sizes.
Therefore, it's essential to carefully choose which plugins to install to ensure that your website remains lightweight and user-friendly.
So, what are the necessary plugins for creating an e-commerce website using WordPress? Here's a list of recommended WooCommerce plugins that you need!
The Must-Have & the Best WooCommerce Plugins
The function of WooCommerce plugins is to build e-commerce-based websites. WooCommerce itself is free, but additional plugins are needed for various business needs.
After installing WooCommerce on WordPress, you also need to install some must-have plugins to maximize your online store. Here they are!
1. OptinMonster

Have you ever visited a website and encountered a pop-up reminding you to subscribe or offering discounted products?
Well, you can create similar pop-ups using the OptinMonster plugin. This WooCommerce plugin is useful for increasing website conversions and product sales.
With OptinMonster, you don't need to do any coding on your WordPress website. It's designed to be user-friendly and easy to use.
Some functions of pop-ups created using the OptinMonster plugin include:
Offering a product catalog available on the website
Promoting discounted products
Encouraging newsletter subscriptions through email
Pricing
This WooCommerce plugin is free to use, but the free version has limited features. If you want more features, here are the subscription prices:
Basic: $9/month
Plus: $19/month
Pro: $29/month
Growth: $49/month
2. Shipping Cost Plugin

Plugin Ongkos Kirim is one of the essential plugins for WooCommerce that you must install when building an e-commerce website.
When you create an online store with WooCommerce and customers order products, your website needs shipping data such as:
Estimated shipping costs
Different shipping costs based on courier services
Support for currencies other than rupiah
Option to add additional costs, such as wooden packing costs
Weight and volume calculation features that affect shipping costs
WooCommerce itself doesn't provide this data and system. Without using the Plugin Ongkos Kirim, customers will have difficulty estimating shipping costs for different regions.
The Plugin Ongkos Kirim provides all the necessary data. With courier databases like JNE, J&T Express, SiCepat, Pos Indonesia, Lion Parcel, Anteraja, TIKI, Wahana, and others, the estimated costs can be accurate.
After installing the plugin on WordPress, you can configure shipping cost estimation based on various variables such as volume/weight, origin, and destination at the sub-district level.
Pricing
If you're interested in trying one of the best WooCommerce plugins, you can try it for free or subscribe according to the following price terms:
Trial: Free (14 days)
Personal: Rp 280,000/year
Multi: Rp 490,000/year
Developer: Rp 700,000/year
3. YITH WooCommerce Ajax Search

What other WooCommerce plugins for WordPress do you need to install? YITH WooCommerce Ajax Search for sure, a plugin to facilitate product searches on your website.
This plugin was created because customers often have difficulty finding the products they want due to the large number of products available on your online store.
With YITH WooCommerce Ajax Search, you can create a search feature on your website with filters that make it easier for customers. Other than that, it is also recommended to install Ajax WooCommerce cart plugin. Therefore, this is one of the best WooCommerce plugins for Elementor, too.
Some helpful filters in the Ajax Search plugin include out-of-stock product filtering, product suggestion list feature, and price list feature in product suggestions. The premium subscription rate for this plugin is 69.99 Euro/year.
4. LiveChat

Have you ever thought that customers sometimes have questions when visiting your website, whether they want to inquire about specific products or give suggestions?
LiveChat is a plugin that you need for WordPress e-commerce. With the LiveChat plugin on your online store website, you can facilitate live communication with customers.
In addition, this free WooCommerce plugin also provides a chatbot feature that can instantly answer customer questions, increasing engagement on your website.
Here are some features you should consider:
Browse archive feature to find interesting insights from customer issues
Chat survey feature to understand customer needs and improve products/services
Cards and carousel feature to recommend products with buttons through chat
Pricing
However, the free version is only valid for 14 days. If you've tried it and are interested in using it again, here are the pricing mechanisms:
Starter: $20/month
Team: $41/month
Business: $59/month
Enterprise: Contact directly
5. WooCommerce Dynamic Pricing & Discounts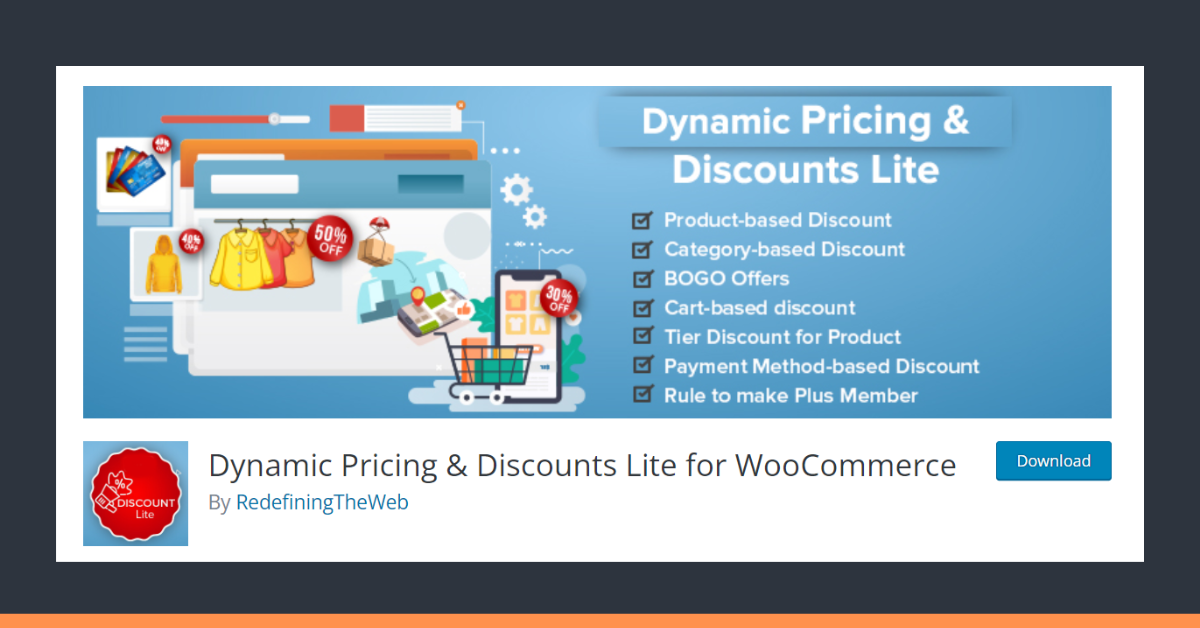 Another essential component for building an online store is the WooCommerce Dynamic Pricing & Discounts plugin.
This plugin functions to increase sales by applying various automatic discount scenarios.
As the name suggests, WooCommerce Dynamic Pricing & Discounts makes the prices on your store dynamic, following the rules you set. Here are its features:
Bulk Pricing to offer discounts based on the quantity of purchase. For example, buy 5 products of any kind and get a 10% discount.
Group of products, when buying a specific quantity of certain items, you get a discount. For example, buy 5 pairs of shoes X and get a 20% discount.
Buy X get Y, when you buy product X, you get a discount for product Y.
And many other discount configurations.
Pricing
If you're interested in subscribing to this plugin, here are the subscription prices:
Regular License: $69/year
Extended License: $299/year
6. WooCommerce PDF Invoice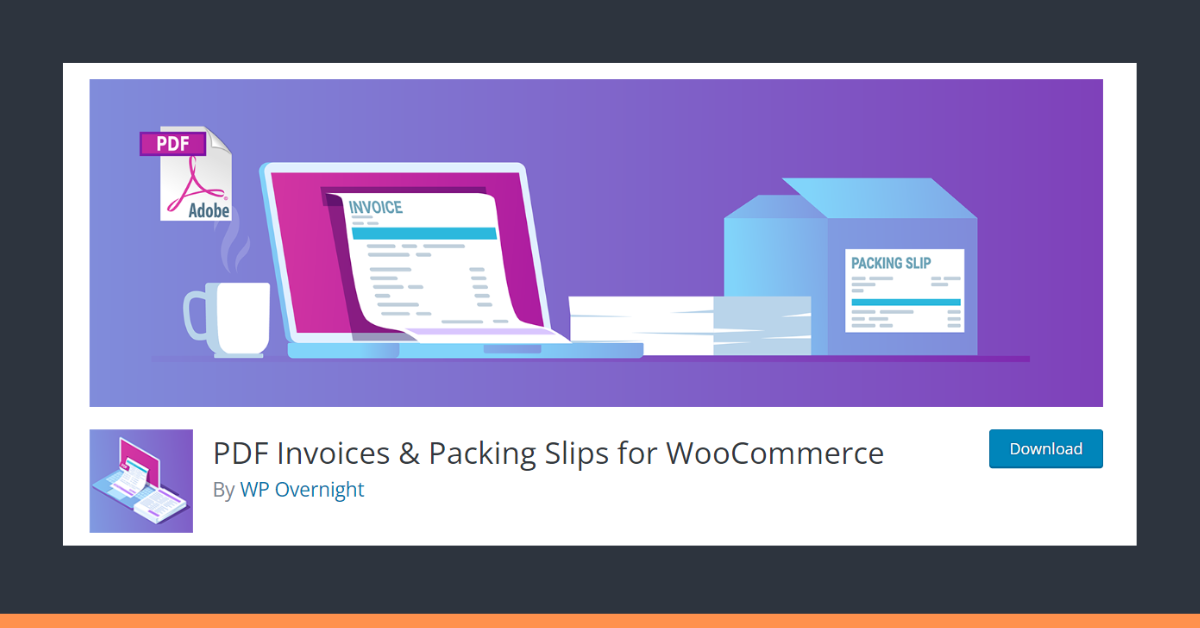 Sometimes, customers forget to pay for products they have ordered through your website. Therefore, the WooCommerce PDF Invoice plugin is necessary for reminders.
This plugin helps you create invoices or bills for your customers when sending order notifications via email. Its features include:
The ability to re-download PDFs from your website
Customizable PDF templates
Invoice numbering to differentiate one invoice from another
Adding your logo to the PDF invoice for a more professional look
Price
To subscribe to this plugin, you need to pay $79/year or around Rp1,100,000 per year.
7. Metrilo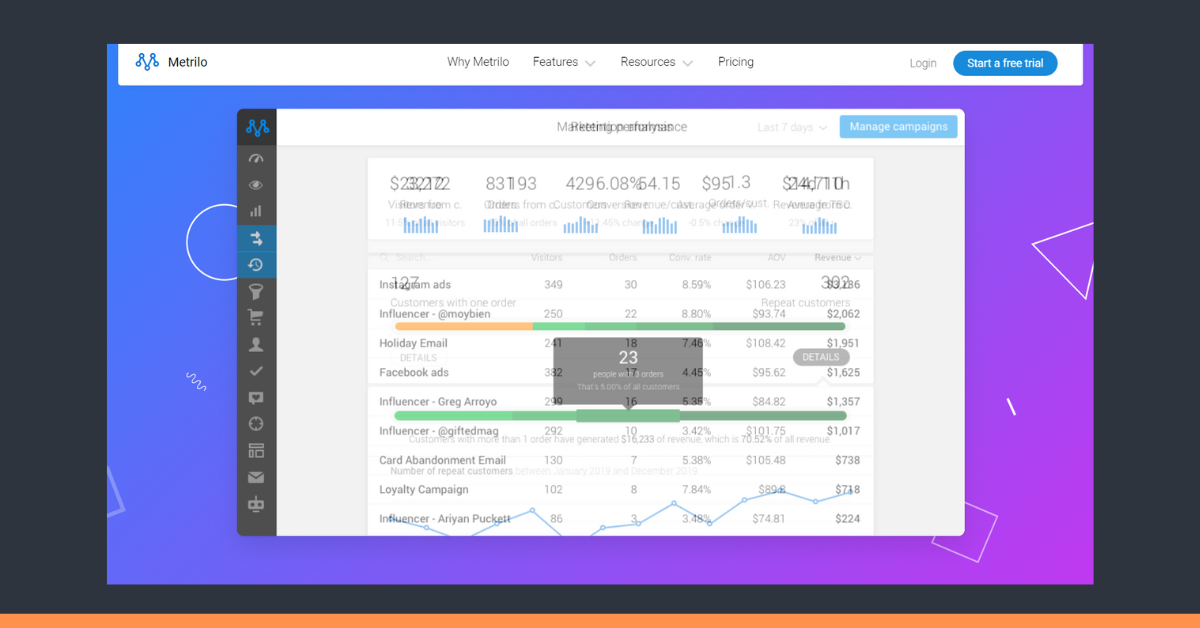 As a serious business owner, to increase sales, you also need to analyze where your customers come from. Is your marketing campaign effective or not?
To answer these questions, you need to use the Metrilo plugin, an analysis and marketing plugins for WooCommerce that provides insights on customers, marketing, and product performance.
Not only does this plugin provide analysis, but it also helps manage email marketing and classify customers based on behavior to create good customer retention.
Price
If you want to subscribe to Metrilo, here are the subscription mechanisms:
Essential: $99/month
Pro: $165/month
Premium: $249/month
8. Customer Review for WooCommerce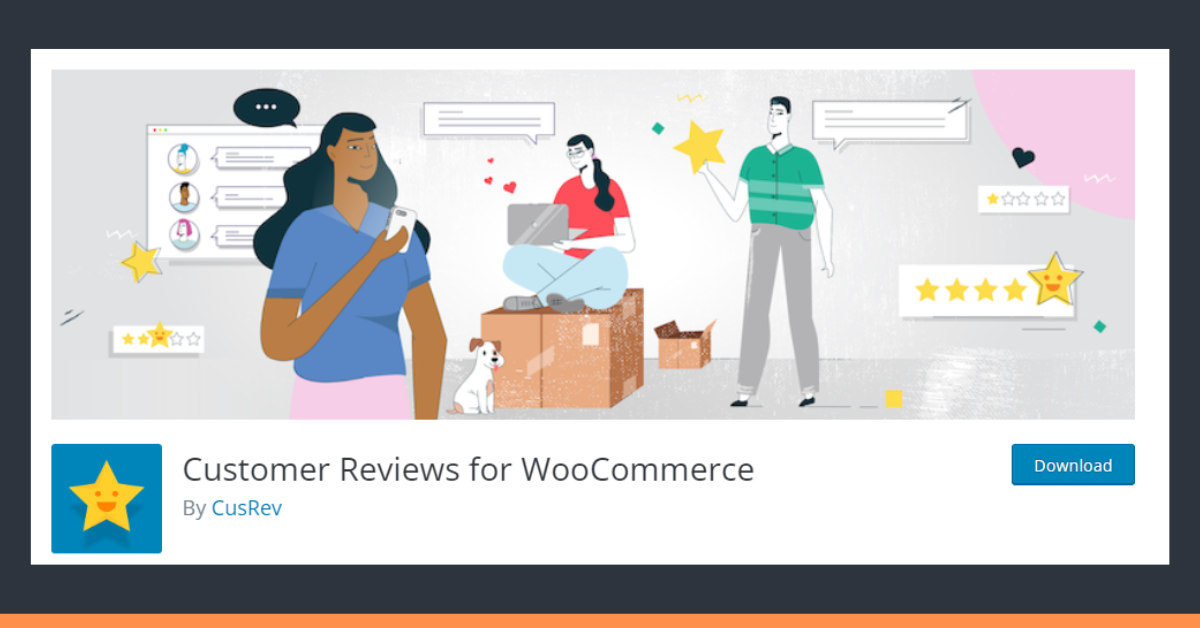 Another best WooCommerce plugin you shouldn't miss is the Customer Review for WooCommerce plugin, which creates a customer review section.
As you may already know, customer reviews, especially positive ones, can increase product sales by up to 279%.
So, if your products are excellent and your customers love them, you need to add this plugin. It will encourage other potential customers to buy your products due to their positive effects.
Features available in this plugin include:
Review, rating, image, voting, and filtering features
Ability to give discounts to reviewers
Q&A or question and answer feature
Ability to import and export review data
Price
Customer Review for WooCommerce is one of those best free WooCommerce plugins. You can try this plugin for free as a trial. However, for the long term, the subscription rate is $49.99 per year.
9. WOCS – WooCommerce Currency Switcher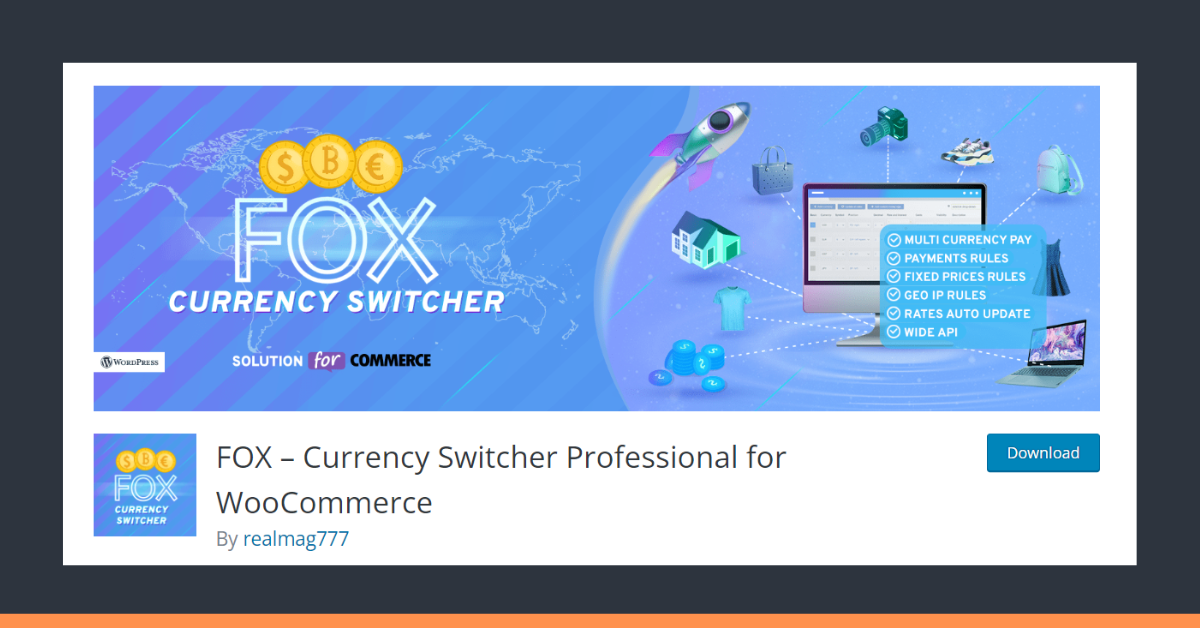 The WOCS – WooCommerce Currency Switcher plugin helps you change the currency on your online store's website. This plugin is especially useful if you have international customers.
Therefore, this plugin is optional and can be installed on your website or not. However, if your target market is international, it is highly recommended to install this plugin.
Features of the WOCS – WooCommerce Currency Switcher include:
Providing real-time currency change on your website
Payment feature using different currencies
The ability to add or subtract currency types, including cryptocurrency conversions
Price
The subscription tariff for this plugin is as follows:
Regular: $36
Extended: $136
10. WooCommerce Multilingual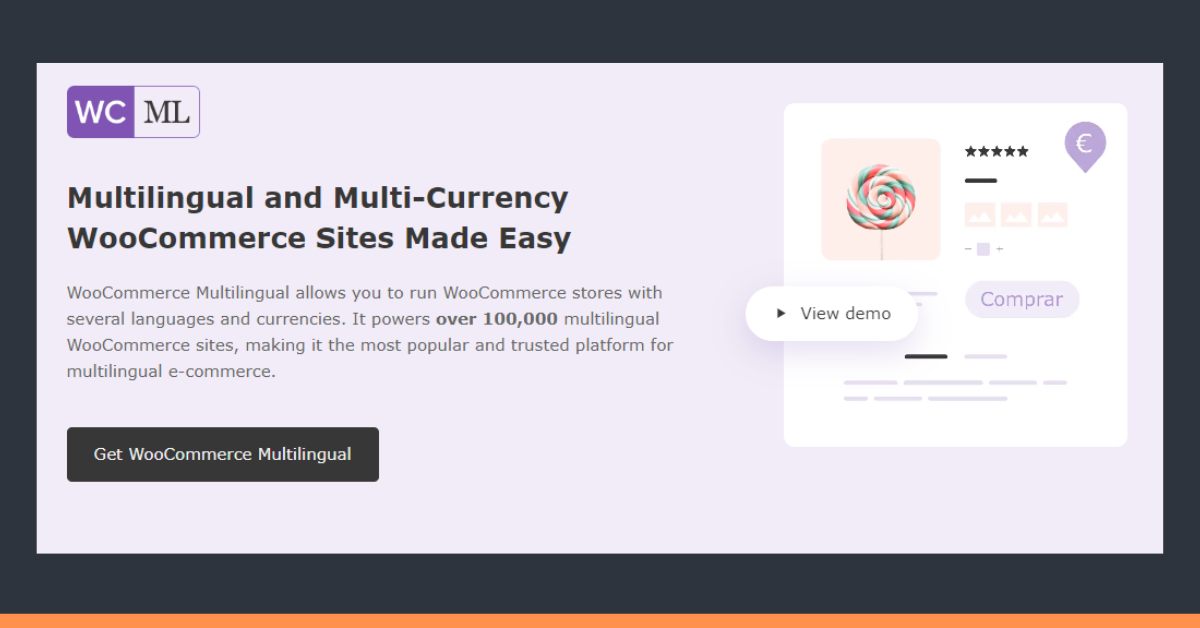 For those who have e-commerce websites with an international target market, you also need to add the WooCommerce Multilingual plugin, which is a language switching plugin.
With this plugin, your online store will be more visible to the world, thus increasing conversions. Therefore, this can be the best plugin to speed up WooCommerce. Some outstanding features include:
Language change features that can be automatically indexed on Google in that language
The ability to manage and edit translations with an easy UI
Collaboration with translators to improve language translation quality
Price
The trial usage of this plugin is free. For those interested in subscribing to the WooCommerce Multilingual plugin, here are the subscription rates:
Starter: 150 Euro/year
Business: 290 Euro/year
Pro: 790 Euro/year
Advanced: 2,990 Euro/year
Extended: 6,990 Euro/year
Which Plugin Will You Try First?
Those are some of the best WooCommerce plugins that you can try. You can test all the plugins above for free before deciding to subscribe the paid version.
However, building a website manually can be time-consuming and requires effort. Plus, if you have to subscribe to various plugins, it can be costly.
If you don't want the hassle of developing and managing a website, especially an e-commerce one, you can collaborate with professional website developers at Tonjoo. Please contact email contact@tonjoo.com for more information.
---
---
Updated on July 31, 2023 by Moch. Nasikhun Amin