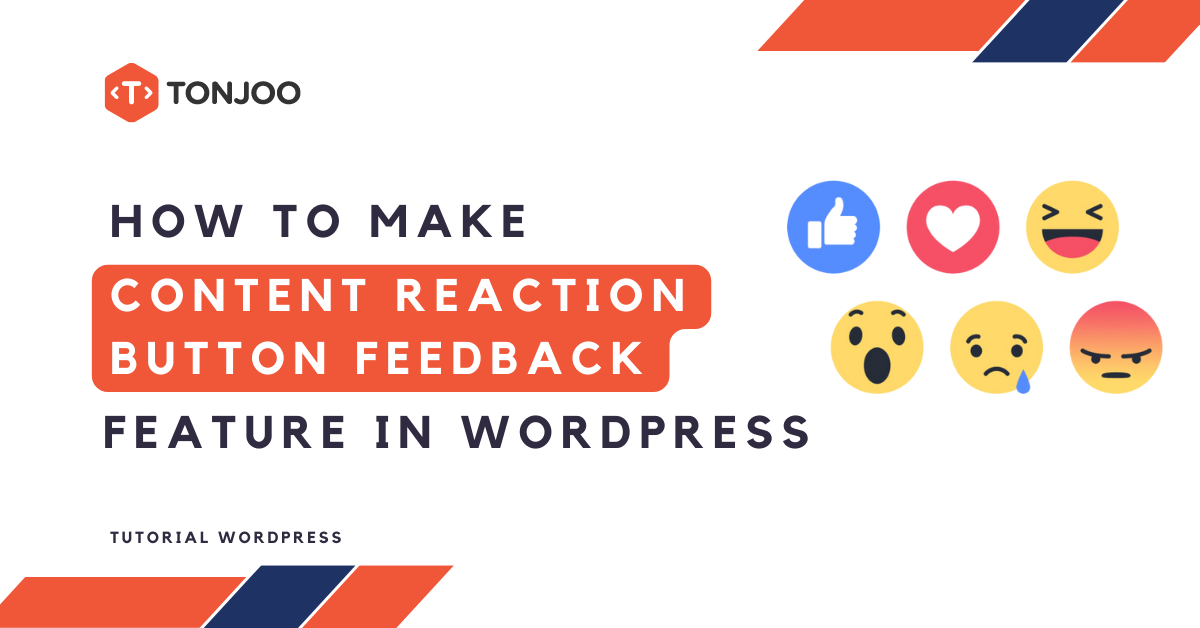 Reaction button feedback helps bloggers to know whether the reader is enjoying their content. This feature usually utilizes Emoticon reactions in response to the input from the reader of the content.
You may know similar things in Facebook, where you can give like and other emoticons to a facebook post. This emotional response button can also be added to your WordPress website.
Besides helping the readers express their feeling, some says that this feature also helps the web's SEO. The good news is you can use a simple plugin to add this emotive response feature.

install one of these plugins to add this feature to your websites.
1. WP Reactions Lite: Engage, Interact, and Enhance SEO
WP Reactions Lite stands as a top-tier animated emoji reaction plugin designed for WordPress. This lightweight and highly efficient plugin elevates user engagement and encourages social sharing. It's as easy as activating it, and the plugin instantly enhances your site's interaction.
This plugin sustains your audience's attention, augmenting user engagement, social sharing, user data collection, and on-page sessions, leading to superior SEO. It provides the flexibility to select the pages and posts for the deployment of emoji reactions through a user-friendly admin panel.
WP Reactions are versatile, serving as tools for voting, feedback, social plugins, and gathering user emotional data. This plugin boosts on-page user sessions by 15 seconds, fostering improved SEO. Offering 14 SVG and 14 Lottie Animated Emojis, WP Reactions Lite has all the necessary tools to foster real-time user engagement.
2. Da Reactions WordPress Plugin: Customize, Interact, and Engage
Da Reactions WordPress Plugin facilitates the addition of reaction buttons to content and comments. It extends reactions to posts, pages, attachments, single views, archives, topics, and BBPress replies.

Offering high customizability, this plugin includes a choice of 250 royalty-free icons, customizable size and color for each icon, global reaction order through drag-and-drop, and a collection of reaction icons. It also comes with a color picker for icon customization and blur effect choices.
Widgets enable the display of the most voted contents and comments and the most voted reaction near the content title. The plugin supports localization, is WPML ready, and includes a .pot file.
Premium features allow reactions to custom post types, WooCommerce Products, BuddyPress' Activities, Groups, and Profiles. It offers the ability to enable or disable reactions for registered user, unregistered only, or even for specific user roles. Users can upload their own images for a unique visitor experience and use the Gutenberg block to add reactions into contents.
3. ShareThis Reaction Buttons: A Fun, Quick Way to Engage
ShareThis Reaction Buttons WP Plugin introduces a fun and fast way for visitors to engage with your content. Compatible with all devices, these reaction buttons are easy to install and configure.
Expressions like 'Like it', 'Love it', 'Wow', 'LOL', 'Sad', and 'Anger' can be deployed on your site with a few simple clicks.

Increase engagement even further with the ShareThis Share buttons plugin, which, like the Reaction buttons plugin, offers straightforward installation and configuration.
With open-source advantages and eye-catching emojis crafted by EmojiOne, ShareThis Reaction Buttons adds a flavor of interactivity to your site.
How to Install Reaction Button Feedback Plugin
Those are three plugins that will add a reaction button to post on your WordPress. You can also explore other plugins on WordPress.
If you had decided to install one of those plugins above, follow these steps to install it.
Plugin Installation
Navigate to your WordPress dashboard, find the 'Plugins' option on the left-hand menu, and click 'Add New'.
In the search box, type 'WP Reactions Lite' and press enter. Once you find the plugin, click on 'Install Now' and then 'Activate'.
Plugin Setup
Once activated, you'll see the plugin on your WordPress dashboard menu. Click on it to configure the settings.
You can enable or disable the plugin site-wide with a single click.
You can choose the pages or posts you want to have the reaction buttons on from the admin panel.
The plugin also allows you to use reactions for voting, feedback, social plugins, and more.
Those plugins may have different configuration features. The user interfaces can also vary, requiring a slightly different approach to navigate and adjust settings.
For example, WP Reactions Lite offers a straightforward configuration interface, with options to turn on/off reactions site-wide and specify on which pages or posts you want the reactions to be displayed. While Da Reactions gives a more customizable user experience. you can edit reactions with a variety of icon designs and adjust the color and size settings for each icon.
This is just a general comparison, you might want to try it yourself to see which one is more suitable for your website. Premium features will unlock other features.
Conclusions
Those are three plugins you can install to your WordPress if you want to add a content reaction button feedback feature. Each offers its own unique set of features to suit different needs and preferences.
Remember, the right plugin for you depends on your specific requirements, your website's theme, and the experience you wish to provide your audience. Don't be afraid to experiment with different plugins and settings until you find the right match for your site.
Updated on July 10, 2023 by Hanif Mufid
Comments