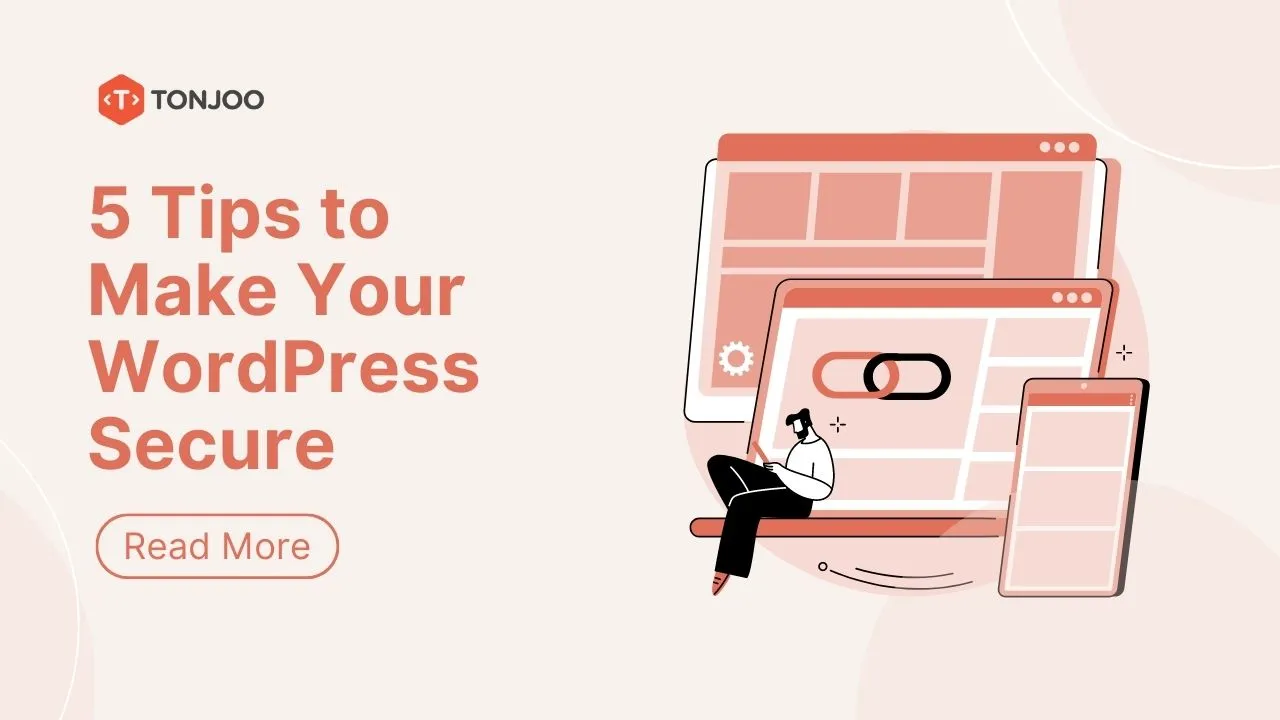 The website security system is very important and must be implemented. In order to avoid any type of loss or mishap, you must be vigilant about the security of the website. WordPress security is frequently the most important aspect to consider, beginning with the plugins you choose to install, the themes you will end up using, and other factors that do not get as much attention as they should.
5 Tips to Make Your WordPress Secure
Delete the used username "Admin"
You must use a stronger password or the kind of a phonetic password which is stronger and it is too tough to break for hackers you also can use two-factor security system as many of providing these kinds of services like cloud, Google, drop box so why you do not these for you word press services for efficient services these are better option to secure your data and contents. The most important thing is that don't make admin as your login id because 90% people have admin as their login id and this is golden opportunity to hack your website and get the required info or the specific task for that they hack these are major precaution which uses to mostly to avoid any type of misshapen.
Create a username with a new name to replace with the "users". This is done so that other people cannot guess the username in use. Make a different username with your nickname displayed on a page of your site.
After you create a new username and then you log out and log in back using the username and password that was created earlier, and then go to the users and delete the admin username.
Do Backup Data Regularly
The another aspect which must be followed is that you must do the backup of your data on regular basis it depends on you that you take it daily, weekly, and then it can be on monthly all depends on the nature of your business and the level of data fetching. It can be avoidable and keep safe from any type of malware and also from another virus which can harm your web and data too. Update your Word Press version on regular basis it provides you ease of safety and also allow you to reduce the cost of maintenance and it also enables the login hints which should be disabled on in all situations that will reduce the hacking opportunities the next step is that you must do download plugins from the trustable resources from where from you will not get any type of unwanted files and folders.
Backing up data on your website regularly is useful to anticipate if any time your website could not be accessed, give you log in an error and hacked from hacker attacks, malware and destructive nature, it needs time for you to upload the data to your website after you've been backing up regularly.
You can try free plugin backup data from wordpress.org such as BackUpWordPress and Duplicator.
Read More

Top 6 Security Plugins for WordPress Websites
Always latest update WordPress Plugin & Theme
Each time a security issue pops up, a patch is on its way, meaning that keeping a website up and running securely is a continuous commitment. Having all your files updated to their latest available version is an excellent way to increase the security of your Word Press website.
From WordPress 3.7+, minor and security updates happen mechanically in your WordPress installation, while to perform major updates to WordPress core files, plugins, and themes you'll need to either perform them via your console or FTP. In an updated WordPress environment, there won't be any room for "unused" stuff such as disabled plugins and old themes, which might bring in some security issues since you haven't been using them recently and possibly, forget to update.
Avoid the use of plugins and themes that nulled
Security is more often is the important aspect which you will have to consider which had influence and do affect your site that starts from the plugins that you choose to install, the themes you will end up using and other aspects that don't come to your mind as frequently as they should. Don't use the pirated theme and try to use the premium theme and plugins. Possibility in the script of pirated theme inserted malware from the hackers.
Clear Plugin & Theme obsolete and no longer in upgrade
Plugin & Theme that you feel do not wear it again immediately deleted if you collect plugins unused in your WordPress, WordPress makes the smooth operation for the worse.
If the plugin and theme you have not get updates from the developer, you should not use. It can ruin your website due to a bug that is not improved throughout the time of his net.
In addition to these tips WordPress security was mentioned earlier, you can also install security plugin in WordPress, such as Lockdown WP Admin & Limit Attempts. Lockdown WP Admin pointless to hide admin login access by changing the URL address "yourdomain.com/wp-admin be yourdomain.com/Up-to-you".
Attempts Limit useful to limit some experimental log at one time, this plugin can avoid brute force attack by a number of attempts to log on to your website.
Finally keeping your website secure is more important task nowadays and after following some of the mentioned instructions you will be able to manage your website personally.
Comments