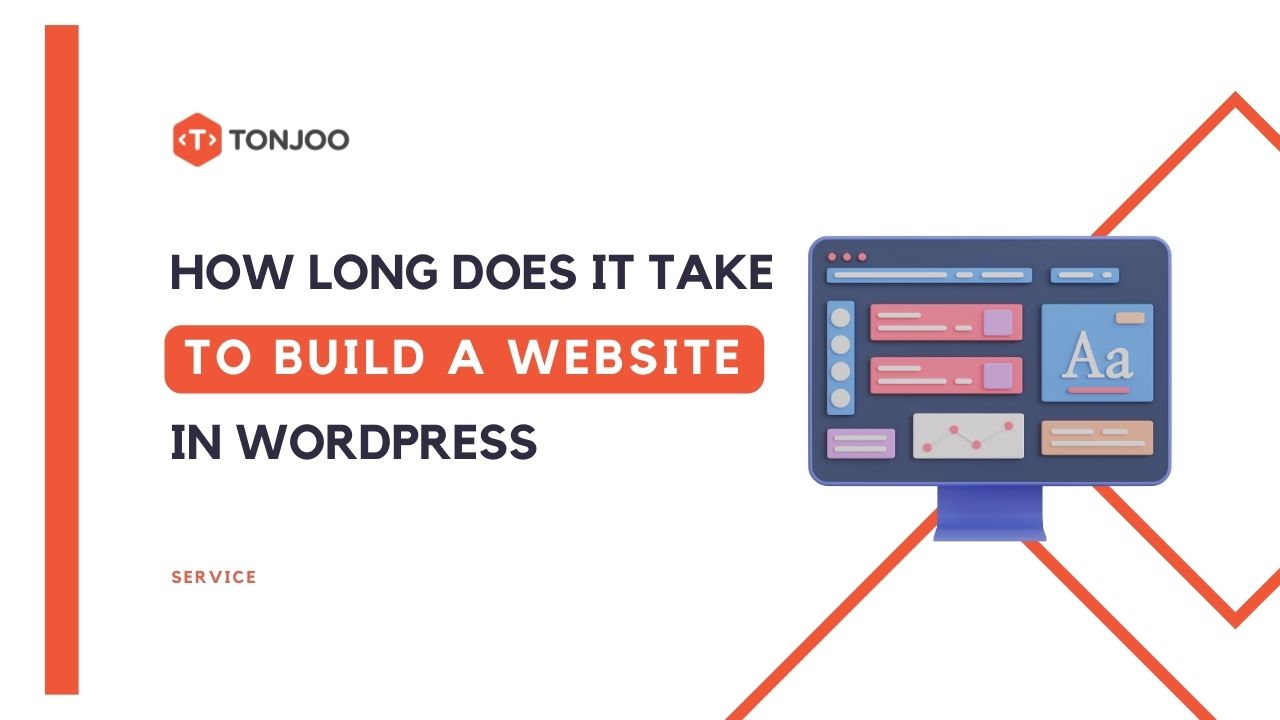 "How long does it take to build a website in WordPress?" is a question that often arises when people want a website, aside from how much it costs.
Building a website is essential for any business or individual looking to establish an online presence. With so many website development companies available in India, choosing the right one that meets your needs can be challenging.
While building a website can take some time, we will give you some tips to speed up the process at the end.
This article will provide a comprehensive guide to help you understand the time required to build a website in WordPress, along with some best practices to make the process more efficient.
WordPress As Website Building Platform
For people who wonder how long does it take to create a website from scratch, the answer is that it could take a month or even more. But luckily, WordPress CMS can shorten the website development time significantly.
Did you know that WordPress powers over 40% of all websites on the internet?
That's right, according to recent statistics, over 500 million websites are built using WordPress, making it the most popular website-building platform in the world.
WordPress is an open-source content management system that allows users to create and manage websites without extensive coding knowledge. Its user-friendly interface, customizable themes, and plugins make it a top choices
Most business owners, bloggers, and individuals who are looking to establish an online presence look towards WordPress as the platform that powers their website.
Its intuitive interface makes it easy to manage the website content even without technical or coding skills. So, you can focus on the real business instead of getting dizzy with the websites.
The next question is, how long does it take to build a website in WordPress?
Timeline for building Custom WordPress Website
So, you're thinking about building a website in WordPress. That's great! But do you know what it takes to bring your vision to life?
Building a website in WordPress can be like embarking on a journey with several stops along the way. Each of phase will show you how much time is needed for a WordPress development company to build a website.
1. Planning Phase (1-4 weeks)
This is where you and your website developer will sit down and map out the direction for your website. Think of it like planning your route and selecting the best pit stops for your journey. Together, you'll identify your website purpose, goals, and target audience and help select the best hosting provider and register a domain name.
2. Design phase (2-6 weeks)
This is where your website starts to take shape visually. Your website developer will select a theme or template, customize the layout, and create graphics and other visual elements that capture your brand's personality.
The developer will also create a wireframe or mockup of the website to provide an idea of how it will look and function. This phase sets the tone and aesthetic for your website, making it a crucial step in the journey.
3. Development phase (4-12 weeks)
This is where the magic happens, and your website comes to life. The developer will install WordPress and start building the website by adding content, images, and other media. Custom functionalities, plugins, and integrations are also added at this stage, giving your website the unique features that set it apart.
4. Testing (1-2 weeks)
This is where your website is put through its paces, and it's like checking under the hood of your car to make sure everything is running smoothly. The testing phase includes checking for errors, broken links, and other issues that need to be resolved before the website is ready to go live. Think of it as a tune-up for your website.
5. Launch ( 1-2 weeks)
Once everything is tested and all issues are resolved, your website can be launched, making it live on the internet. The developer will make any final adjustments, ensuring that everything runs smoothly. This phase is critical because it marks the culmination of all the hard work that went into building the website.
Overall, the timeline for building a WordPress website can vary depending on the complexity of the project, the number of custom functionalities, and the client's specific requirements. While a simple website may take a few weeks, a more complex one can take longer.
For example, an eCommerce Website can take up to several months to perfectly function.
But don't worry, with an experienced website developer by your side, the journey will be smooth sailing, and you'll arrive at your destination on time and on budget.
Tonjoo, a Website development company in Ahmedabad can develop your website in no time.
Breaking Down the Factors: What Affects Website Development Time?
Now that we've covered the typical timeline for building a website in WordPress, let's take a closer look at the factors that can affect development time.
Several factors can impact the timeline for website development. By understanding these factors, you can get a better idea of how long it would take to build a website and how to work with your website developer to ensure a successful project quickly.
1. The Complexity of the project:
The more complex the website, the more time it will take to build. A simple website may just take one week to finish. However, A website with custom functionalities, complex integrations, and multiple pages will take longer to develop than a simple website with just a few pages.
2. Client's specific requirements
Every client has unique requirements for their website. Some may require more design revisions or more custom functionalities than others, which can add to the development time. It really affects on the time for developing the website.
3. Availability of resources
The availability of resources can affect the timeline. Not only the website development team member, it includes the client's availability to provide feedback. Delays in communication or availability might delay the development process.
4. Experience of the website developer
The experience level can also affect the website development time. An experienced website developer will be able to work more efficiently and anticipate potential issues, making the process faster.
5. Testing and Quality Assurance
Comprehensive testing and quality assurance are crucial to ensure that the website functions correctly and is user-friendly. A thorough testing process can add time to the development process, but it's essential to ensure a successful launch.
6. Budget
The budget for the project can also impact the development time. With a larger budget, the website developer can allocate more resources to the project, such as additional team members or more advanced technology, which can speed up the development process.
It's important to keep in mind that these factors can vary from project to project, and the timeline for website development will ultimately depend on the specific needs and requirements of the client.
Don't forget that communicating effectively throughout the process helps your website developer deliver your website within a reasonable timeframe. Working with an experienced website developer also makes it possible to develop a high-quality in a short time.
That's why you want to work with Tonjoo. Whether you are in Bangalore or somewhere else, we will ensure that we can deliver the website in time. Start to communicate with our team to launch your website online.
Accelerate Your Website Development: 3 Tips for Streamlining the Process
As the answer to how long does it take to build a website?, we previously mentioned that it can take around a week to a month or even more for launching the website. But there are ways to speed up the process without compromising the quality of the final product.
By implementing a few simple tips and best practices, you can streamline the website development process and get your website up and running in no time.
Tip #1: Clearly define your goals and requirements.
Think of it like building a store display. You wouldn't start building a store display without a clear vision in mind, would you? Before you start the development process, it's important to clearly define your goals and requirements for the website.
This includes the purpose of the website, your target audience, and any specific functionalities or features you require. It can help your website developer better understand your needs and streamline the development process.
Tip #2: Stay organized and communicate effectively.
To ensure a smooth development process, it's essential to stay organized and communicate effectively with your website developer. This includes providing timely feedback, responding to emails and messages promptly, and keeping track of project milestones and deadlines. By staying organized and communicating effectively, you can help ensure that the project stays on track and is completed within the agreed timeline.
Tip #3: Choose an experienced website developer.
Look for a website developer who has experience in building websites similar to yours and has a portfolio of successful projects. An experienced website developer can anticipate potential issues, provide valuable insights and suggestions, and work more efficiently.
Seasoned WordPress developers know the right WordPress theme as the base for the website, so it will cut the development time.
For example, if you discuss with us, we can launch your website in one month or even faster than that. a decade of experience in WordPress website building had thought us about WordPress in and out. We know what is best and fastest for your website requirements.
Contact us or send your website requirements through the inquiry box. We'll gladly help you bring your desired website into reality.
Conclusion
Now, you know how long does it take to build a website in WordPress. Generally, it can take around a week and a month. Although a more complex website may take some more time.
Building a website in WordPress can be a complex process, but with the right partner, it can also be an exciting and rewarding experience. At Tonjoo, we're committed to helping business owners like you streamline the development process and build a website that meets your needs and helps your business grow.
By defining your goals and requirements, staying organized and communicating effectively, and choosing an experienced website developer, we can help ensure a successful project. So why not partner with us and let us help you build the website of your dreams? Contact Tonjoo today to learn more!